Are you looking for an exciting job? Do you want to have direct influence on your earnings and work any hours you want? We have a solution for you … Become a Glovo courier and earn up to 8 000 PLN per month! We will tell you why it is worth it and how to start without complicated formalities. This is a great option for foreigners who want to find a fast, good and legal job.
What is Glovo?
Glovo is a Spanish startup, a solution that connects people who want to order food, groceries, medicines and other products with couriers who can make money quickly and easily. The company already operates in 26 countries and in Poland offers services in almost 100 cities. The hallmark of Glovo are world-famous backpacks and thermal bags, with a distinctive logo. In Poland, the company is associated primarily with the delivery of food, but this is not the only service available. Glovo also offers the possibility to transport small packages, within a specific city. This is a particularly interesting offer for companies that need to quickly send goods to their contractor or recipient.
Couriers and customers connect through a dedicated application that gives access to a gigantic number of stores and restaurants in Poland. In order to become a Glovo customer, you just need to download the application and that's why the base of potential customers – i.e. possible orders – is constantly growing.
The 3 biggest advantages of being a Glovo courier
1 Flexible schedule You decide when you start and end your work. You set your own schedule and can adjust it to your needs at any time. At Glovo, you work when you want and how much you want! This can be your main job, but it's also a great option for those who want to combine study with work or earn extra money at Glovo. 2 Good wages Glovo offers attractive rates, plus you decide how much you work and which assignments you take. This gives you a direct influence on your own salary. In addition to the basic salary you can also count on numerous bonuses and benefits. We will elaborate more on the topic of salaries later in this text. 3 Work right away Do you need money right now? You can start working even in 24 hours! Not only will you start earning quickly, but you can also get paid quickly – even every 14 days you can collect the money earned.
How does working with Glovo look like?
Working at Glov is simple and intuitive. Your basic tool is a phone with the Glovo app and any means of transportation. You will be given a detailed manual before you start, but here we will try to describe in a few points how such work looks like:
You take an order in the app
You pick up an order from a designated point, a package from a shipper, or make a purchase at a specific store or salon
You deliver the package, shopping or meals to a specified address. That's all! You can take another order and continue earning.
What is important, when you buy products for a client or order dishes, you do not use your own money. You receive a special card from Glovo. So you don't run any financial risk.
Glovo courier Dark Store
One of the job options available in large cities (Warsaw, Krakow, Wroclaw, Poznan, Gdansk, Lodz), is to become a Glovo Dark Store courier. The work consists in quick deliveries from the Biedronka store. You will be assigned to a specific warehouse and only from there you realize deliveries.
What are the benefits?
You cover only small distances (up to 2 km), so you can easily do it by bike
You do not have to carry loads – you deliver lightweight shopping (up to 9 kg for bike couriers and up to 14 kg for scooter couriers)
You have a guaranteed rate – even 25 PLN/h. You can also count on additional bonuses for hours worked up to 200 PLN extra per week!
How much do you earn working as a courier in Glovo?
For most people, money is the most important and motivating factor to work. How much can you earn while working for Glovo? Even 8 000 PLN per month! How does it look like exactly?
Current salary is about 25 – 30 PLN per hour of work. The more hours you spend working for Glovo, the more you will earn.
You can count on the additional bonus of 15% and bonuses that you can get for specific tasks.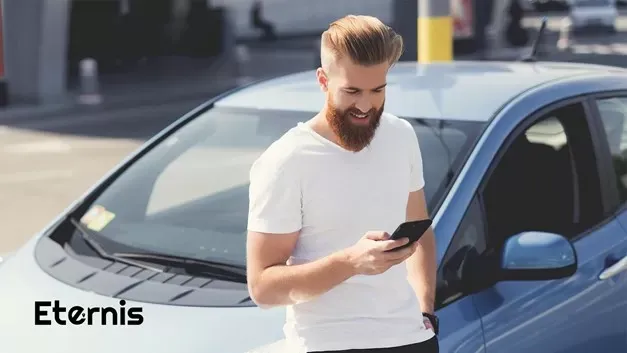 Settlement
Of course, when you work, you have to account to the IRS. How? There are two ways, an easy one and a slightly more complicated one.
You can run a business – this is the more complicated option. Then you will pay your own social insurance premiums and keep your accounts yourself (or with the help of an accounting office). This is a costly option, because if you run your own business, you have to reckon with the payment of up to PLN 1,500 a month in social insurance premiums, but rest assured… This is not the only solution!
You can take advantage of Eternis' offer Eternis is a billing partner for many companies such as Glovo. Instead of paying ZUS, you will pay a subscription fee of 30 PLN per settlement/every 2 weeks. Eternis will employ you as an intermediary, under contract of mandate.
You don't have to worry about paperwork, settlements, or going to the office – Eternis takes care of everything!
In addition, Eternis gives you a number of bonuses, e.g. you can hire a car, scooter, or electric scooter to make your work easier and faster.
This is a great convenience for foreigners. The company has employees who speak as many as 7 languages (including English and Russian)
Employees will help you with formalities and make sure that everything is done in accordance with the law. All that for just 30 PLN every two weeks.
Eternis enables you to work for several companies (applications), which means even higher earnings and a wider choice of assignments. Glovo also does not require you to be exclusive. So, if you want to work full-time and earn more – this is the perfect solution!
Start working with Eternis: >>>>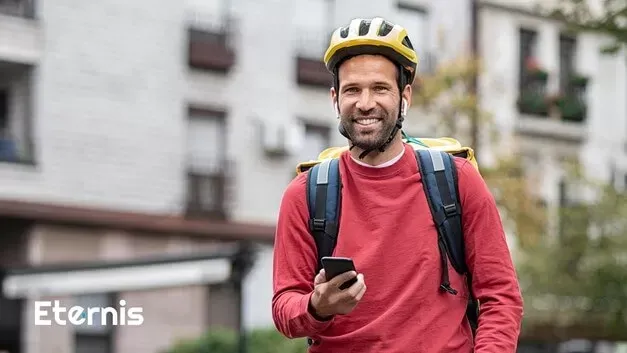 What are the requirements to work with Glovo?
What are the requirements to work as a Glovo supplier? You only need to:
be a person of legal age
have an Android smartphone with internet access
have your own means of transportation (car, motor scooter, electric scooter, bicycle, electric scooter). If you take advantage of Eternis' offer, you will be able to rent a vehicle for work on favorable terms
have a special bag from Glovo. In Eternis you can pick it up at the stationary office
How to start working with Glovo step by step?
Do you want to work with Glovo? Do this by following the steps below or simply visit the Eternis office! There you will get help, a staff member will guide you through the process step by step.
Register with Glovo https://couriers.glovoapp.com/pl/?utm_source=eternis
Fill in the necessary information
Undergo a 30-minute online training for couriers – sign up for a schedule (selected blocks of time) or choose courses "off slot
Wait for your work equipment to be shipped to your home address by Glovo The delivery is made by courier
Register in the Eternis supplier panel https://panel.eternis.pl/rejestracja
Activate the Adyen card they will receive for in-store purchases for customers
Switch applications on and select the hours you want to work
Start work in Glovo with Eternis!
What is important to remember? Some important tips
Remember that customers have the right to judge suppliers. If you are nice and try to reach your customers on time – you will be able to count on bonuses!
Choose the right vehicle for the place of work. In the center of a big city, a motorcycles or a scooter may be the best solution. And if you appreciate movement, a bike will do!
The more you know your city, the easier it will be for you to choose the best routes to get to your clients as quickly, comfortably, and safely as possible.