WHO WE ARE ?
We are one of the largest partners in Poland, we currently account for over 8,000 Drivers, and this number is growing every day. We work with Uber, Bolt, Bolt Food and Glovo (from the beginning of their activity in Poland) as well as FREENOW, OptiTaxi, and Volt. Thanks to the services we offer, you don't have to start your own business if you want to become a driver / supplier in the application. We have extensive experience and you can be sure that we will properly account for your income.
If you are looking for a reliable and professional partner who pays your money on time, with good telephone and e-mail contact, and an accounting department at the driver's disposal - You couldn't find better!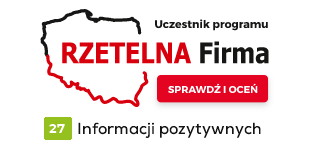 WHERE WE WORK ?
We operate in every city where Bolt, Uber, FREENOW, Bolt Food, Glovo, Volt, GoTaxi operate.
It is: Warsaw, Poznań, Kraków, Wrocław, Tri-City, the Silesian agglomeration, Łódź, Szczecin, Bydgoszcz, Białystok, Toruń, Rzeszów, Częstochowa, Radom, Kielce, Olsztyn, Bielsko-Biała, Płock, Elbląg, Opole, Lublin, Koszalin, Legnica, Gorzów Wielkopolski, Kalisz, Płock, Tarnów, Toruń, Wałbrzych, Włocławek, Zielona Góra.
Our stationary office is located at ul. Saska 9A in Warsaw, Łagodna 14 in Białystok and ul. Krzemieniecka 51a / 2 in Wrocław.
WHY US ?
Our STRENGTHS? There is a bit of it!
First place in the Bolt Recommended Partners ranking

A stationary office is open from Monday to Friday

An Accounting Office is available to Drivers daily from 14:00 to 16:00

Quick and easy contact by phone and e-mail

Cash registers that will expand your earning potential
Reliable, trained employees who will answer all your questions and dispel any doubts

B2B cooperation

Command systems: "free payment for recommendation"

Fuel discounts (up to 20gr / l)

OK SYSTEM sports packages
DRIVER PANEL
IT system for settlements, thanks to which settlements are quick and timely. You decide how often you pay. You have payouts whenever you want. On your terms.
CALCULATION WITH ETERNIS
Our Drivers are our priority. That is why we care for them at every stage of cooperation, legally, reliably and on time settling.
PARTNER PROGRAMS
Take advantage of our partner programs: OK System sports cards (sports and recreation facilities throughout the country), CircleK fleet cards (discounts on fuel up to 20gr / l and the possibility of downloading collective invoices).
FREE CALCULATION FOR RECOMMENDATION
Did you recommend us to your friend? Free billing is yours!
WARSAW OFFICE
OPEN HOUSERS
Warszawa 03-968, ul. Saska 9A
Mon-Wed 10:00-17:00
Thurs 12:00-17:00
Fri 10:00-15:00
BIAŁYSTOK OFFICE
OPEN HOUSERS
Białystok 15-757, ul. Łagodna 14
Mon-Tue 10:00-14:00
WROCŁAW OFFICE
OPEN HOUSERS
Wrocław 53-601, ul. Tęczowa 57C
Mon-Tue 10:00-14:00
Wed closed
Thu-Fri 10:00-14:00